Eight people have suffered injuries, including four in a critical condition, after a boat exploded on the Hawkesbury River in Sydney's north on Sunday afternoon.
The vessel erupted in flames at a marina off Dangar Road at Brooklyn just after 5pm.
NSW Ambulance said 12 crews were dispatched to the scene along with a specialist medical team, a Toll Ambulance Rescue Helicopter and a Westpac Ambulance Rescue Helicopter.
Four patients were taken to Royal North Shore Hospital in a critical condition, two to Westmead Hospital in a serious condition, and two didn't require transportation.
Those injured suffered burns and smoke inhalation.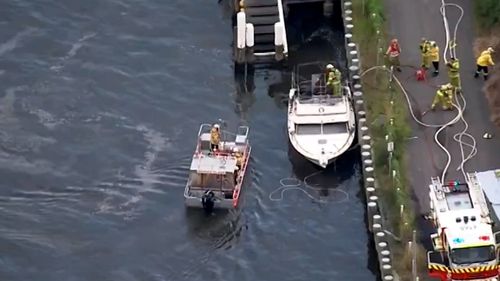 Firefighters were involved in driving ambulances in order to free up paramedics to work on the patients as they were raced to hospital.
NSW Police provided escorts for the ambulances to help them through the heavy Easter weekend traffic.
The blaze was extinguished but the boat was destroyed and sunk in shallow waters.
The cause of the fire is being investigated.