[ad_1]

Explore unique bathroom tile applications that will bring pizzazz to your interior space.
Choose a
colour palette
"Colour is one of the easiest ways to make a statement in any room, and bathrooms are no different. Take time to decide on your colour palette and then select how you want to incorporate it into your bathroom – it can be as simple as choosing to tile one wall in a single colour. Or you could bring colour in with floor tiles or in smaller areas such as a splashback behind the bath or basin or in the shower." – Amadea Oberholzer, interior designer at Lifestyle Ceramics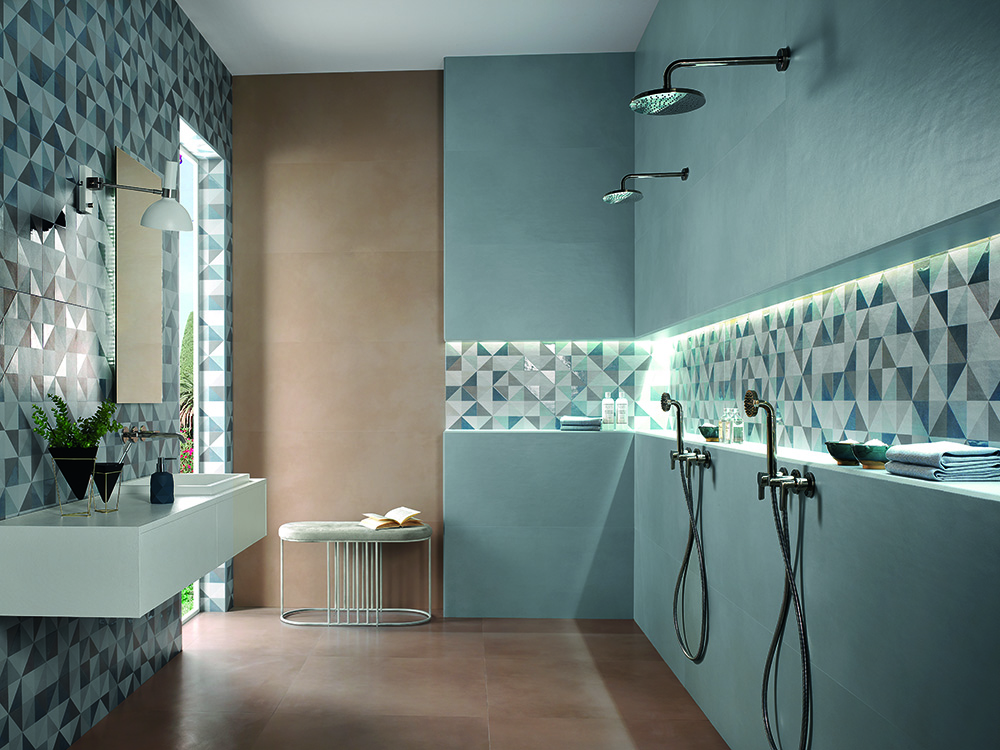 Incorporate
patterned tiles
"If you really want to give your bathroom a modern look, and you are feeling brave, you can use patterned tiles to make a statement and create a specific aura. There are a variety of patterned tiles available – from chevrons or stripes to geometric and floral. You can choose to tile the entire bathroom using the patterned tile or you can use it as an accent." – Amadea Oberholzer, interior designer at Lifestyle Ceramics
Consider texture
"Texture can be added by the tiles or the way they are laid. A bathroom can instantly look contemporary by using textured tiles in a cool monochrome scheme. You can lay them in a diagonal, brick or herringbone pattern and highlight the design using the grout lines. Another way of creating a feeling of space is using a grout that blends with the colour of the tile. The eye is then drawn to the tile itself. I personally love the latter as it always adds the wow factor to any bathroom." – Mervyn Gers, founder and director of Mervyn Gers Ceramics
Play it safe
"Incorporating a decorative, textural tile will add some character to your bathroom space, and give the design that missing element of creativity. A safe bet is to try it out with a neutral palette so you can play with textures and patterns without worrying about clashing colours." – Sharon Kensley, co-owner of Akashic Tiles
Incorporate a
feature wall
"Create a feature wall using bold subways in various patterns. This works especially well when using it as a backsplash not only for a basin but an entire section of wall. Contrast is key when creating an eye-catching backsplash. Don't feel limited to using your feature décor tile only on the wall. Let it flow onto the floor to play around with a sense of space. The bolder the décor the better." – Lydia Kruger, designer at Mosaico Vero
Consider your
grouting
"When it comes to making a bold statement in your bathroom, the key is to create an area of attraction through the use of patterns and colours that will set the tone for the space. Grout lines are an essential part of your design and a great way to show off your chosen pattern, but are often unconsidered.
"If you've opted to go for a timeless pattern like a herringbone commonly seen in traditional settings, consider a grout colour that contrasts the tile colour to ensure that your pattern stands out. The vibrancy and depth of colour of our handmade Limesite tiles against a lighter grout colour are a sure way to make a bold impact with a timeless classic." – Olebogeng Mathibe, industrial designer at Wolkberg Casting Studios


Source link

[ad_2]