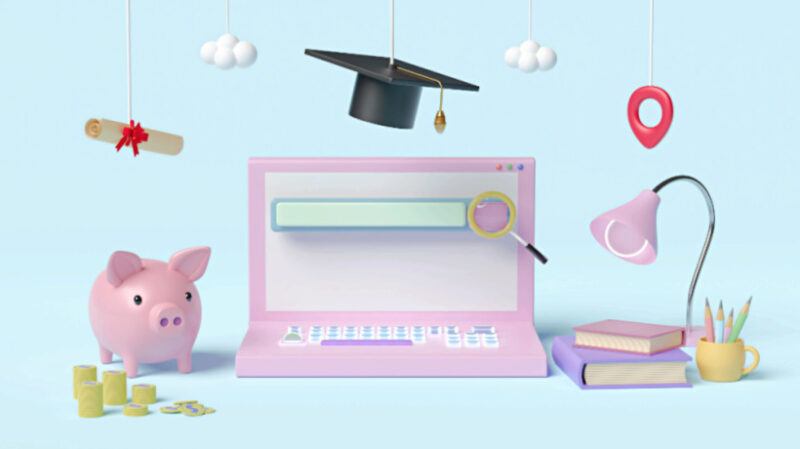 Financial Aid Options For Online Learners
If you're an online learner, you may have wondered what your financial aid options are. Just because you're a student utilizing a digital medium doesn't mean you're not a real student.
Understanding the financial aid options available to you as an online learning student can make the process of finding and locking down financial aid easier and less stressful.
Understanding The Difference Between Grants, Loans, And Scholarships
Before applying for various types of financial aid, it's important to understand what you're applying for and what it entails. A huge distinction that's important to understand is the difference between grants, scholarships, and loans.
Grants and scholarships are both portions of money that are awarded to students that don't need to be paid back at a future date. Grants are typically given to those in need of financial help, while scholarships are awarded to those who achieve academic excellence. If you're looking for a place to start searching for financial aid, look for all of the grants and scholarships that you qualify for.
Unlike grants and scholarships, loans are portions of money that you'll need to pay back at a later date. As a student, there are two types of loans that are available: subsidized loans and unsubsidized loans. Subsidized loans are loans that don't accrue interest for a set period of time.
In the case of subsidized student loans, this will typically be until six months after a student graduates. Unsubsidized loans are loans that start accruing interest from the moment they are taken out. This being the case, you'll always want to take subsidized student loans rather than unsubsidized student loans when given the option.
Where Should You Look For Financial Aid As An Online Student?
As an online student, finding financial aid can feel like a confusing process. This being the case, it's natural if you feel like you don't know where to start. Being aware of some resources you can tap on to get you closer to receiving financial aid can be a great place to start. Here are some resources you should explore as an online student looking for financial aid.
Contact Your School
While it may seem obvious, it can sometimes be easy to overlook what a great resource your educational institution can be when it comes to finding financial aid. In fact, almost every higher education institution has some form of a financial aid office with staff who specialize in helping students find, apply for, and receive financial aid.
A quick search can probably get you a phone number that will connect you with your school's financial office. By talking to someone and explaining your situation, you'll be able to receive guidance about what financial aid you're eligible for and how you should go about applying for them.
Explore FAFSA
The Free Application for Federal Student Aid, commonly abbreviated as FAFSA, is an amazing resource for all students, whether online or in-person, to explore federally funded financial aid options. The FAFSA website makes it easy to apply for aid and may even connect you with financial aid options you didn't know you were eligible for. If you have difficulty navigating their website, you can call their help center and have someone walk you through the process.
Scholarships For Those Studying To Be Nurses
If you're studying online to become a nurse, then there are a plethora of nurse and nurse-practitioner-specific scholarships that you may be able to take advantage of. They are offered by a number of organizations, such as the American Association of Nurse Practitioners and the Health Resources and Services Administration.
Looking into scholarships offered by organizations such as these could potentially save you tens of thousands of dollars on your online nursing education.
CareerOnestop's Scholarship Finder
CareerOnestop's Scholarship Finder is an amazing resource for you to find a number of unique scholarships that you may not be aware exist. No matter who you are or what you're studying, chances are that you'll be able to find scholarships that apply to you.
This is a fantastic resource to find scholarships that shouldn't be skipped out. So, if you're wondering how you're going to fund your online education, make sure to take advantage of all of the fantastic scholarships you're eligible for that are featured on CareerOnestop's Scholarship Finder.
Ways To Boost Your Chances Of Receiving Scholarships As An Online Student
As an online student, you'll want to take advantage of every scholarship opportunity that you can. In order to do this as effectively as possible, it can help to be aware of some ways that you can boost your chances of receiving scholarships. Here are some tips that can help you make it happen.
Be Meticulous With Applications
Various scholarships will have various rules for applicants to apply for the scholarship. As an online student in need of financial help, do not take these as suggestions. You will increase your chances of receiving scholarships substantially by meticulously following the specific application guidelines. Many applicants are immediately discarded from consideration just because they fail to follow the guidelines that are set out. This being the case, do yourself a favor and make sure to follow each and every stipulation when applying for scholarships to boost your chances of receiving them.
Write Essays Like Your Life Depends On It
For many people, writing essays to apply for scholarships is treated like an afterthought. As such, many students phone it in when it comes to writing essays for scholarship applications. This is a huge mistake, as the essay portion of scholarship applications is arguably the most important section.
If you're serious about locking down some financial aid to help fund your online education, it's important to take the time to produce fantastic essays that showcase your talents as a student.
Make It Happen
As an online student, you're more than capable of receiving financial aid. By exploring the available resources and being proactive about applying, there's no doubt that you can decrease the amount you'll have to pay for your online education substantially.
If you've been worried about how expensive your online education will be—don't be. If you put in the effort, you'll definitely be able to receive the financial aid you need to make your educational dreams come true.